Buah!!!
I jumped up and ran around the circle in protest.
No no no no no – Boys are stupid. Yuck. Why can't she just wake up herself?
Kindergarten teacher shook her head annoyed. We had been practicing the Sleeping Beauty for the parents' evening and this was the second time I interrupted the play when the "prince" leaned over to kiss me.
It's how the story goes, Pauliina. Do you want to be the princess or not?
I sighed and went back in the middle of the circle. The song started. Of course I wanted to be the princess – that's the dream, right?
Buahhhhhh!
I ended up being the dog.
How NOT to set up your goals
Ahhh it's the beginning of the new year. A lot of us are revising what we achieved in 2019 and setting up goals for the next 12 months.
New year, new me!
Yet quite often despite our best intentions we fail. As part of my challenge to share my personal failures with the world, here are the top 3 mistakes I made when I was setting up goals in the past – and no, I'm not going into SMART stuff as I'm sure you know that already 🙂
I hope it'll help you to make 2020 the year to remember.
The top 3 mistakes I made when I was setting up goals in the past

1. Setting up realistic, uninspiring goals instead of inspiring ones
I'm from a small town in Finland. I applied for summer jobs there every year when I was young, but I never got one as I was painfully shy because of bullying.
I wasn't considered good enough to even cut grass.
As being realistic wasn't clearly a right path for me, one spring I applied for a job in a holiday camp in France instead.
It was a great summer.
Same thing happened with my university internship: my realistic applications to little Finnish companies were rejected, but when I sent my CV to a digital agency in Barcelona I got the internship straight away.
What made the difference?
Attitude.
It's tempting to set up realistic goals to ensure we'll achieve at least something, but those are usually the ones that fail. It seemed to make sense to aim low, but I wasn't inspired nor did the role excite me. I didn't sell my skills nor bring the energy to the interview.
However, if you set yourself a slightly crazy goal that excites you, a goal that has a chance to have a huge positive impact in your life, you go all in with a completely different attitude, hustling day and night.
The more unrealistic and inspiring your goal is, the more likely you're going to achieve it 😉
2. Setting up goals based on other people's expectations instead of what makes you happy
Back to the princess story 🙂 – my friends and parents kept telling me what an honour it would be for me to be one of the main characters in the play.
Imagine all those pretty clothes and a tiara. Everyone will be jealous!
So, even if I didn't really want to be a princess I went for it as I wanted my parents to be proud of me.
And we know how THAT ended up.
Sometimes we let others to convince us of a wrong path instead of listening our own gut and assessing what WE want from life, what is important for US.
For example, you might be a brilliant engineer and love your job. You get promoted to management position and suddenly instead of machines you end up dealing with people.
Buahhhh!!
Revise the goals you've written down and assess if it's really what you want or if it's something your parents or spouse wants. Imagine yourself one year from now having achieved it: would you be happy?
Yes, it's tough not to meet expectations people have of you, but only pick goals that make your heart sing.
My parents were embarrassed, but I was a damn happy dog.
3. Settling for the story I was given instead of writing my own
But hey, these are the cards I've been given. It's not like I can achieve whatever I want, I hear you say.
I've been in roles that put me in a well-defined, siloed box. Where the marketing plan is optimised, strict and … boring. Where hierarchy was the number 1 ruling factor.
Not an excuse to settle, my friend.
What do you think was the moral of my story?
—
Ok, is there actually a dog in the Sleeping Beauty?
Exactly. There's not.
Because I didn't like the story nor the role I was given when I was a kid, I convinced the teacher that what the play really needed was a brave dog that saves the day by distracting the dragon so prince could slay it.
It's sooooo boring to see the same story every year, I pointed out.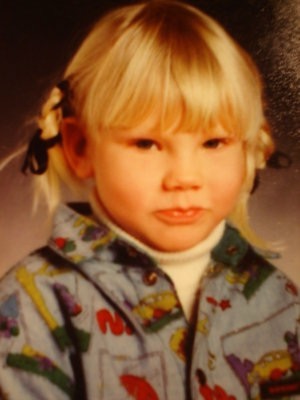 I was right. Parents were confused at first, but this little plot twist made the play far more interesting than the original. Everyone talked about it for months.
They were happy and so was I.
See, when you invent a character or a role that adds value and changes the game, no one can tell you how you're supposed to play. If you're not happy nor inspired, propose a goal they haven't even thought of.
You write the script, you write the rules.

You get to do what you love 🙂
In 2020, be the hero of your own story.
Best of luck x
Pauliina
Ps. If you found this helpful in anyway, please do like this or share your thoughts in comments Would really appreciate it!
[This is part of my challenge to share one personal failure per week to help you see you're not alone: we all fail. I hope this will help you to get unstuck and succeed in life ]
Related: Why your every LinkedIn like and comment matters
Related: What NOT to do if you are planning a career change
Related: How to get your motivation back
Get inspired! Follow and like us: