One of the best speakers at Baltic For Events 2018, the biggest forum for event professionals. Her presentation was very inspiring. It was very emotional, fun and deep at the same time.
Mary Kirillova, General manager at BEIC.pro
Passionate about diversity and inclusion?
Are you passionate about increasing diversity and inclusion in your industry? Are you frustrated that only few women are applying for leadership or technical opportunities in your company?
Research shows that women are less likely to advocate for themselves than men, especially in male-dominated industries, the biggest reason being the lack of confidence and self-belief.
It makes them feel stuck, frustrated and anxious. It stops them speaking up in meetings, asking for that promotion and even applying for a role they're dreaming of.
To succeed in your career, talent and knowledge is not enough. You need to have confidence to speak in social situations and present in front of an audience.
Boost your confidence, boost your career: what's blocking you?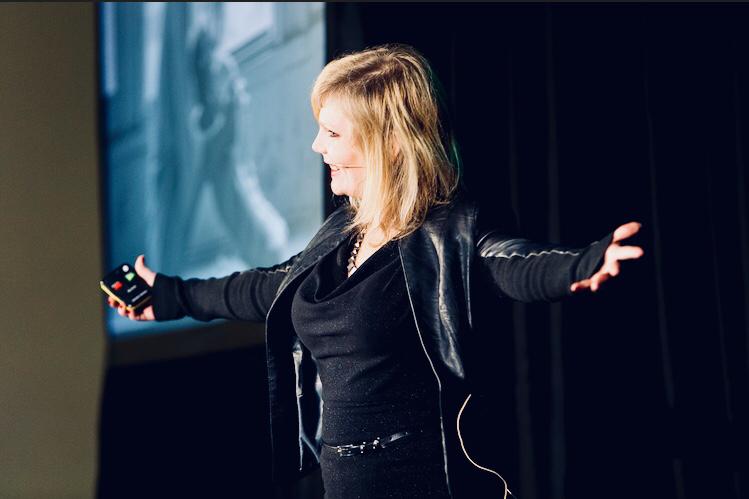 As digital transformation and rapidly changing industry is leaving women behind, it's important to address the underlying issue blocking womens' career advancement.
Boost your confidence, boost your career: What's blocking you?
After my speech / workshop, your attendees will:
Know what the most common fears causing anxiety and lack of confidence are
Understand what is really blocking them personally to advance in their career
Have more clarity on what they want to achieve
Discover three main methods to overcome fears
Take three simple, actionable steps to implement straight away in the workplace
I use a lot of storytelling to put ideas in context and the format is interactive to help attendees to apply the advice in their own life. They will leave feeling positive, empowered and inspired to put what they learned in practice.

Authentic, engaging and motivating International speaker and comedian
I'm in B2B Marketing Magazine's list of top 10 women making biggest impact in tech in 2019.
Having developed a method to overcome my social anxiety and fear of public speaking, my story from a bullied small-town girl to a global manager at Siemens has been inspiring people around the world.
I'm a chairwoman, keynote speaker, moderator and panellist in International conferences across 3 continents and over 15 different countries incl. events such as Women in Strategy in New York, Women in Shipping in Manila and Women in IT Europe Summit in Berlin. I've also spoken at Google HQ in London, ran a workshop for L'Occitane and other blue chip companies.
My presentation style is authentic AND funny. I'm also a stand up comedian and I've been featured in various media interviews, podcasts and documentaries, such as Millenial disruption with Gary Vaynerchuk.
But don't only listen to me – here's what few of the event organisers have to say:
"Pauliina was the chairperson for our inaugural Women in IT Europe Summit in Berlin and she did a great job in linking the sessions and the points discussed in panels throughout the day. Pauliina introduced a one minute exercise after each session for the audience to reflect, make notes of their takeaways and she encouraged our attendees to take action. It was an innovative approach that was very well received. It was a pleasure to work with her and I look forward to many more opportunities to work together in the future. Thank you Pauliina!"
Tania Ferreira, Senior Conference Producer, Bonhill PLC
"Pauliina is inspiring, courageous, honest and funny. She brings a much needed humanity and openness to some very important business and technology topics. Her unique perspective is a valuable asset for events focused on business transformation"
Oisin Lunny, Advisory board member, SXSW
"We had the pleasure of having Pauliina as one of our guest speakers at our recent event, hosted at Google's head office in London. Pauliina's digital marketing experience is immediately apparent. The insight brought to the presentation was something appraised by the event guests, and her dry wit and delivery style was engaging and entertaining.
This was well received by our guests and many people commented on how she was a great addition to our speaker line-up. Pauliina's ability to tie in comedy and humour with serious subjects made a really refreshing presentation, that people not only learnt from, but were able to relate to."
Lisa Morton, Head of Marketing, NMPi
"Uniquely valuable and engaging speaker. She recently gave a marketing presentation which was one of the most authentic narratives I've seen in a long while. Pauliina gave an inspiring message that left attendees with ideas to work on and the motivation to focus on them.
Robert Milstein, Conference producer, Marcus Evans
Pauliina is an experienced and engaging speaker. Her ability to dissect complex topics is admirable and her passion, energy and enthusiasm is truly engaging. As a speaker, I cannot recommend her highly enough and will be pleased to welcome her back in 2019.
Holly Jeffries, Content director, Capital Creation
So, if you want to make a real impact and help people to boost their confidence, forget the death by powerpoint and get your audience inspired. Contact me for available dates via LinkedIn or contact form below.

Speak to you soon,
Pauliina Jamsa
https://www.linkedin.com/in/pauliinajamsa/