One of the best speakers at Baltic For Events 2018, the biggest forum for event professionals. Her presentation was very inspiring. It was very emotional, fun and deep at the same time.
Mary Kirillova, General manager at BEIC.pro
From anxious to unstoppable: the secret to becoming confident
The biggest problem blocking career advancement, especially among women, is the lack of confidence and self-belief. It makes us feel stuck, frustrated and anxious. It stops us speaking up in meetings, asking for that promotion and even applying for a role we're dreaming of.
"If I work hard enough, they'll recognise it and give me that promotion and pay rise"
When it's given to someone else, we don't blame the company.
We blame ourselves.
Why should your audience hear from me?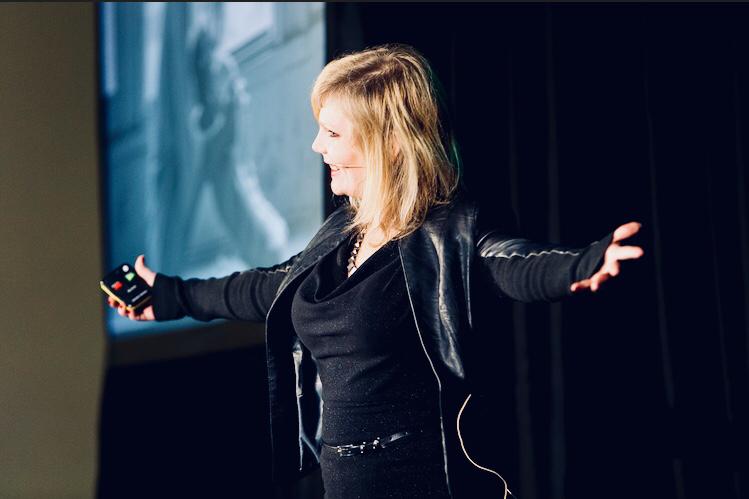 To succeed in your career, talent and knowledge is not enough. You need to have confidence to speak in social situations and present in front of an audience.
There are plenty of presentations and workshops on confidence and public speaking out there, but they are fixing the symptoms, not the real cause.
Knowing what to say to a boss, where to put your hands or how to stand on stage is irrelevant when you are shaking and can't breathe.
I have been there. I understand how it is. I know how to overcome it.
We are not born with confidence – it's built step by step.
From anxious to unstoppable: the secret to becoming confident
After my speech / workshop, your attendees will:
Know what the most common fears causing anxiety and lack of confidence are
Understand what is really blocking them personally
Have more clarity on what they want to achieve
Discover three main methods to overcome their fears and live a life full of confidence
Take three simple, actionable steps to implement straight away in the workplace
I use a lot of storytelling to put ideas in context and the format is interactive to help attendees to apply the advice in their own life. They will leave feeling positive, empowered and inspired to put what they learned in practice.

From an anxious and bullied small-town girl to an International speaker
When I said I know exactly what I'm talking about, it's true.
I'm from a small town and I was bullied as a kid. I was told I was ugly, useless and worth nothing. I got the best grades in school, but speaking with people filled me with anxiety.
l felt so alone. So rejected.
When I was 17 I realised that what people said about me didn't define who I was. What really mattered was what I thought about myself!
I started overcoming my fears step by step and it led me to a life full of adventures: I've lived in 5 different countries, speak 7 languages and have even jumped out of a plane. I've worked in agencies, start-ups and blue chip companies like SAP, Microsoft and now I'm a global manager at Siemens.
Yet 5 years ago I was again front of a road block: I was still absolutely terrified of public speaking. So much in fact, that I was shaking and in tears when I had to present front of 5 of my team members – who I was MANAGING!
It was ridiculous so I used the same method that I used when overcoming my social anxiety step by step and my career took off.
Where did it take me?
Authentic, engaging and motivating International speaker and comedian

I'm in B2B Marketing Magazine's list of top 10 women making biggest impact in tech in 2019.
In 2018 I've run workshops and spoken on International stages in 12 different countries, including Women in strategy in New York, Ignite 2018 London, B2B Online Amsterdam, and high profile events in cities such as Lisbon, Frankfurt, Geneva, Sofia, Ljubljana, Tallinn, Helsinki and Munich.
If I could, so can you!
My presentation style is authentic AND funny. I'm also a stand up comedian and I've been featured in various media interviews, podcasts and documentaries, such as Millenial disruption with Gary Vaynerchuk.
But don't only listen to me – here's what few of the event organisers have to say:
Pauliina is inspiring, courageous, honest and funny. She brings a much needed humanity and openness to some very important business and technology topics. Her unique perspective is a valuable asset for events focused on business transformation.
Oisin Lunny, Advisory board member, SXSW
"We had the pleasure of having Pauliina as one of our guest speakers at our recent event, hosted at Google's head office in London. Pauliina's digital marketing experience is immediately apparent. The insight brought to the presentation was something appraised by the event guests, and her dry wit and delivery style was engaging and entertaining.
This was well received by our guests and many people commented on how she was a great addition to our speaker line-up. Pauliina's ability to tie in comedy and humour with serious subjects made a really refreshing presentation, that people not only learnt from, but were able to relate to."  
Lisa Morton, Head of Marketing, NMPi
"Uniquely valuable and engaging speaker. She recently gave a marketing presentation which was one of the most authentic narratives I've seen in a long while. Pauliina gave an inspiring message that left attendees with ideas to work on and the motivation to focus on them.
Robert Milstein, Conference producer, Marcus Evans
Pauliina is an experienced and engaging speaker. Her ability to dissect complex topics is admirable and her passion, energy and enthusiasm is truly engaging. As a speaker, I cannot recommend her highly enough and will be pleased to welcome her back in 2019.
Holly Jeffries, Content director, Capital Creation
So, if you want to make a real impact and help people to boost their confidence, forget the death by powerpoint and get your audience inspired. Contact me for available dates via LinkedIn or contact form below.

Speak to you soon,
Pauliina Jamsa
https://www.linkedin.com/in/pauliinajamsa/