Pauliina is inspiring, courageous, honest and funny. She brings a much needed humanity and openness to some very important business and technology topics. Her unique perspective is a valuable asset for events focused on business transformation.
Oisin Lunny, Advisory board member, SXSW
Look beyond technology: emotions belong in business and ignoring them is a MASSIVE error
Do you feel frustrated and stuck in your project? Do you feel like you're hitting your head against the wall when you're trying to get your customers or employees to use your system? Are you getting stressed, because management is starting to ask you why your digitalization project is not moving?
Exactly. It's all about emotions.
It's all about people.
There is no digital transformation without mindset change. Companies tend to spend millions on finest software and processes to drive change in their company, but spend nothing on change management. But as many will learn the hard way, companies can't compete only with technology and processes.

Ignoring emotions is a massive error. There's always someone faster than you, cheaper than you, more agile than you. Which is why the human factor, often sadly overlooked, plays such a crucial part in your digitalization strategy.
Some of the toughest business challenges to solve include:
getting management buy-in
driving user adoption
resolving the conflict between sales and marketing
recruiting AND retaining digital top talent
If people resist, they can block initiatives and refuse to use new systems or digital channels. So the status quo remains, in spite of the millions invested in moving away from it.
And soon you'll have no business.
But what if emotional intelligence IS your real competitive advantage?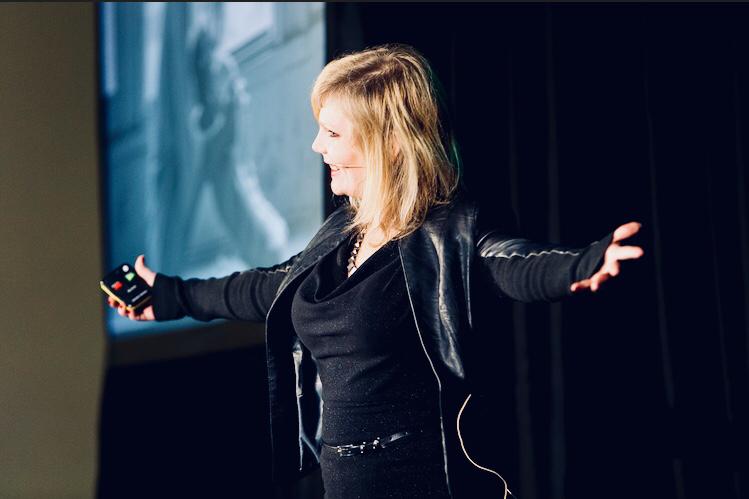 75% of change initiatives fail.
Only 5% do because of technology.
This is an opportunity! Imagine how HUGE potential for growth you have if you tap into the territory that is seen by most of the competitors far too complex to handle? Getting a management buy-in or having people actually using your software?
After my speech / workshop, you'll know:
the true nature of digital transformation
the real reasons that people resist change
how you can play a crucial part in driving change management
how to recruit and retain digital top talent
how you can use emotional intelligence to dissolve inertia and erase resistance in the three key areas: management buy-in, user adoption and conflict between sales and marketing, regions and global.
I will share with you three simple steps you can implement straight away in your workplace. You will leave feeling positive, empowered and inspired to put what you learned in practice.

Speaking from the heart in the world of tech
One of the best speakers at Baltic For Events 2018, the biggest forum for event professionals. Her presentation was very inspiring. It was very emotional, fun and deep at the same time.
Mary Kirillova, General manager at BEIC.pro
But let's address the elephant in the room: another female millennial talking about emotions and feelings. Right.
Why you should listen to me?
I'm not talking about getting emotional, hurt and reacting to things. The contrary. Emotional intelligence is about controlling your emotions and understanding where the other party is coming from.
I understand emotions. Emotions drive every transformation, every sale. My unique approach to speak and teach "heart logic" instead of "head logic" creates a much deeper level of impact in attendees than graphics and bullet points. People almost always base their decisions first on EMOTIONS and then THEN justify them with logic.
When I speak, people LISTEN.
I'm an engaging storyteller. I'm funny. I have gone through digital transformation, constant re-structuring and company acquisitions in 5 different countries – I know what works and what doesn't much more than someone who's never been there. I understand how the massive change from "old" to "new" technologies impacts employees as well as buying behaviour from baby boomers to millenials.
And that … is priceless.
Authentic, engaging and motivating International speaker and comedian
I'm in B2B Marketing Magazine's list of top 10 women making biggest impact in tech in 2019.
We have far too few women representing tech sector publicly. It's not enough to participate "women only" events, but to really change the industry, women need to be also in male-dominated events to show that we belong on stage and to the tech panels.
That we also have our voice.
This inspired me to overcome my fear of public speaking and I've been a keynote speaker, panellist, moderator and a judge in tens of international conferences in 10 different countries, including Women in strategy in New York, Ignite 2018 London, B2B Online Amsterdam, and high profile events in cities such as Lisbon, Frankfurt, Geneva, Sofia, Ljubljana, Tallinn, Helsinki and Munich.

I challenge myself to do things that scare the most to prove a point and to make a real difference in people's lives and society itself. Last year I launched a challenge to share my personal failures on social media to show it's ok to fail and my journey from a shy, bullied small town girl to a global manager speaking 7 languages and living across the world is inspiring people to take action to make a change.
If I could, so can they!

My presentation style is authentic AND funny. I'm also a stand up comedian and I've been featured in various media interviews, podcasts and documentaries, such as Millenial disruption with Gary Vaynerchuk.
But don't only listen to me – here's what few of the event organisers have to say:
"Uniquely valuable and engaging speaker. She recently gave a marketing presentation which was one of the most authentic narratives I've seen in a long while. Pauliina gave an inspiring message that left attendees with ideas to work on and the motivation to focus on them.
Robert Milstein, Conference producer, Marcus Evans
Pauliina is an experienced and engaging speaker. Her ability to dissect complex topics is admirable and her passion, energy and enthusiasm is truly engaging. As a speaker, I cannot recommend her highly enough and will be pleased to welcome her back in 2019.
Holly Jeffries, Content director, Capital Creation
So, if you want to make a real impact and get people on your side, forget the death by powerpoint and get your audience inspired. Contact me for available dates via LinkedIn or contact form below.

Speak to you soon,
Pauliina Jamsa
https://www.linkedin.com/in/pauliinajamsa/