Have clarity, build your confidence and live a life you're totally and absolutely in LOVE WITH
Do you feel stuck, demotivated and insecure? Does the thought of presenting in a meeting fill you up with anxiety? Are you tired of seeing promotions and accolades going for the loud ones?
I understand you. I've been there, feeling like I'm hitting my head against the wall, unsure of my strengths and too nervous to speak up. Always silent, terrified of speaking front of audience and never feeling good enough to even apply for that promotion.
On the surface I looked fine, but social situations made me anxious, I didn't connect with anyone at work and felt excluded, and my relationships were heading to a breaking point.
But now I'm living a life I'm totally in LOVE WITH.
And so can you 🙂
Imagine waking up in the morning energized and with a smile. Walking to a meeting with confidence, knowing that you're respected and appreciated. Having fun and joy in your life, being surrounded by wonderful people believing in you.
You deserve it all.
We are not born with confidence – confidence is built step by step. All you need is a proven method and someone who finally listens to you, believes in you, gives you clarity and holds you accountable on every step of the way.
Take the first step to overcome your anxiety and schedule a FREE online chat or call session with me to:
Get clarity on what you REALLY want
Understand what is the real issue that's blocking you
Leave positive and motivated with concrete actionable steps to reduce your anxiety and increase your confidence
Together we can figure out what is blocking you, what is the best path for YOU and build your self-belief, step by step.

Build your confidence and self-belief with motivating life coach who genuinely cares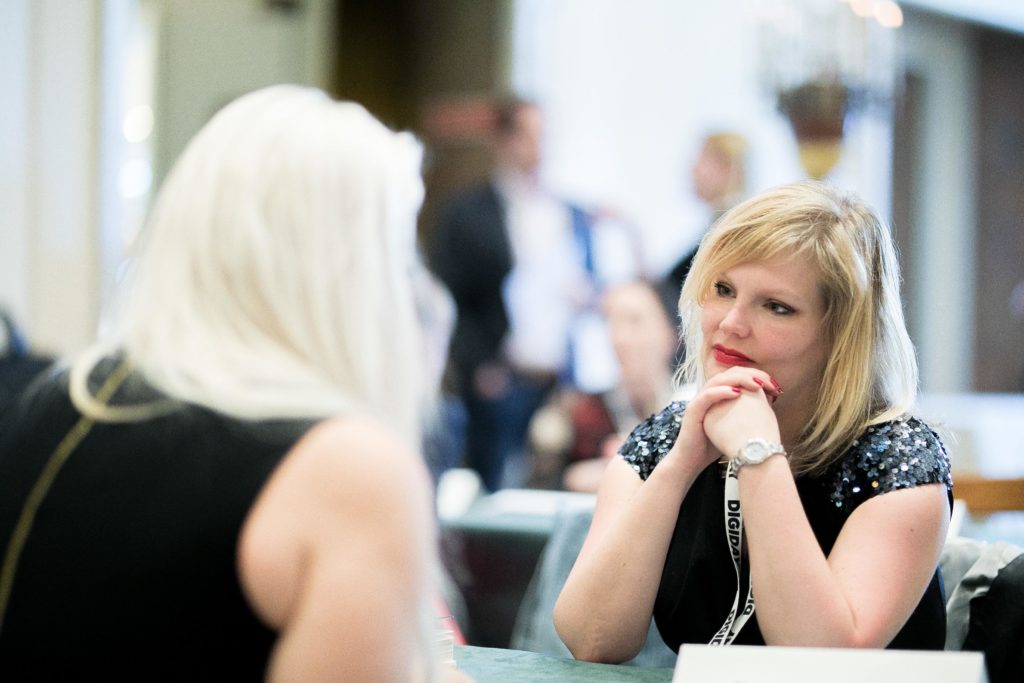 You don't see any fancy marketing videos here. That's on purpose. I believe that to get best results from coaching it needs to be raw, authentic and heart-to-heart.
This is real me. This is what you'll get.
You need someone you can trust. Someone who listens without judgement, who motivates you, believes in you and is not afraid to push you further away from your comfort zone.
Someone who genuinely cares.
I get it – I really get it. If I could do it, so can you!
I'm from a small town and I was bullied as a kid. I was told I was ugly, useless and worth nothing. I got the best grades in school, but speaking with people filled me with anxiety.
l felt so alone. So rejected.
When I was 17 I realised that what people said about me didn't define who I was. What really mattered was what I thought about myself!
I started overcoming my anxiety step by step and it led me to a life full of adventures: I've lived in 5 different countries, speak 7 languages and have even jumped out of a plane. I can walk to a room full of strangers with a smile and confidence. I have friends I adore around the world.
Yet 5 years ago I was again front of a road block: I was still absolutely terrified of public speaking. So much in fact, that I was shaking and in tears when I had to present front of 5 of my team members – who I was MANAGING!
It was ridiculous so I used the same method that I used when overcoming my social anxiety step by step and my career took off.
Where did it take me?
I'm in B2B Marketing Magazine's list of top 10 women making biggest impact in tech in 2019.
I've spoken on International stages in 12 different countries, from London to New York. I've had interviews on TV, events and documentaries.
I've worked in agencies, start-ups and blue chip companies like SAP, Microsoft and now I'm a global manager at Siemens.
If I could, so can you!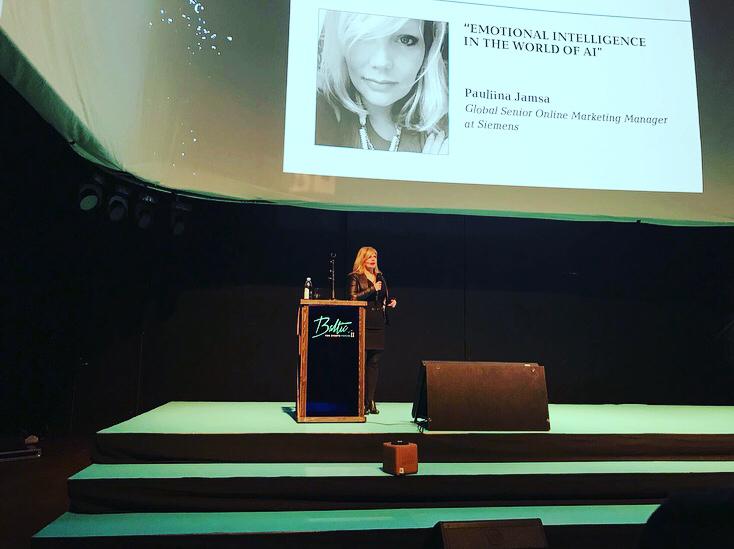 Having been there, feeling stuck and finally having courage to change my life by building confidence step by step, I understand you better than most other people would.

I listen, I care, but I also understand exactly what you're talking about.
What do my clients have to say:

Pauliina and I started coaching on topic of self-development. And what did we get? I have found a new job opportunity already and with her help I felt prepared for it. She supported me keeping my mind straight and I was able to work around my fear of new things and getting to situations with a better positive mindset. I always felt motivated afterwards.
Alina Koehler, Siemens, Germany
Her warmth, closeness and openness have allowed me to have a reliable point of support from far away, which makes you understand and have more perspective of life. I am very grateful to Pauliina for giving me advice and tools to start a new stage in my personal and professional career
Viviana Cruz, Siemens, Colombia
Pauliina has done a great job at helping me identify different areas in my skillset where I could apply myself to lead with greater impact. After putting those strategies into practice I noticed serious improvement and better flow of information between parties.
The extensive professional experience from Pauliina is a value added asset for these coaching sessions. She has experienced many challenges like those we discussed and has shared the strategies she used to overcome them. In the end – I have landed a new job and I am applying the information from our discussions to be more effective.
Alfonso Hernandez, Microsoft, USA
I was unable to decide on what career to pursue. Pauliina helped me with this immensely enabling me to narrow my focus and organise my priorities as well as introducing me alternative ways of approaching job search. She is extremely patient, an attentive listener and I felt like she understood my goals and drive.
I felt that she had a genuine care for my progression and did all she could to develop a strategy for me to find a career path that suited me. As a result of her coaching I have now been attending and making progress with interviews that really suit me and, most of all, I feel confident in my job search, which is invaluable for me.
Chris Eager, Sage, UK
My goal in reaching out to Pauliina was initially to have an objective view in evaluating my options, at a crossroads in my career.
Pauliina's approach was very refreshing, encouraging and really inspired confidence in my abilities, experience, and skillsets. While some focus was on building my visibility, profile and activity on LinkedIn in a way that would grab attention from potential clients, we also covered the vast benefits of being your own boss, and pursuing projects that would be exciting and engaging, as well as some of today's big marketing & tech challenges.
It was really refreshing to talk to a young, dynamic and successful technology marketer, with a specific focus on taking small, but meaningful steps forward. Since we began the four sessions of coaching, I have gone from three smallish clients, to one four clients for my business, the fourth being a significant 15 month contract – so I am now set on a path as a consultant with my own business. Overall, it has been a great experience.
Mark Smith, Independent Consultant, UK
Take the first step towards a career and life you LOVE
It takes one decision to change your life. If you are ready to stop hitting your head against the wall and build your confidence to have a life you LOVE, please contact me on LinkedIn or via the contact from below for the initial FREE online chat or call session to:
Get clarity on what you REALLY want
Understand what is the real issue that's blocking you
Leave positive and motivated with concrete actionable steps to reduce your anxiety and increase your confidence
Let me help you to build your confidence to have a career and life you're absolutely and totally in LOVE WITH – step by step:

Looking forward to hearing from you 🙂
Pauliina
Please note that at the moment I've got only few places left! To book the discovery session with me, contact me on:
https://www.linkedin.com/in/pauliinajamsa/